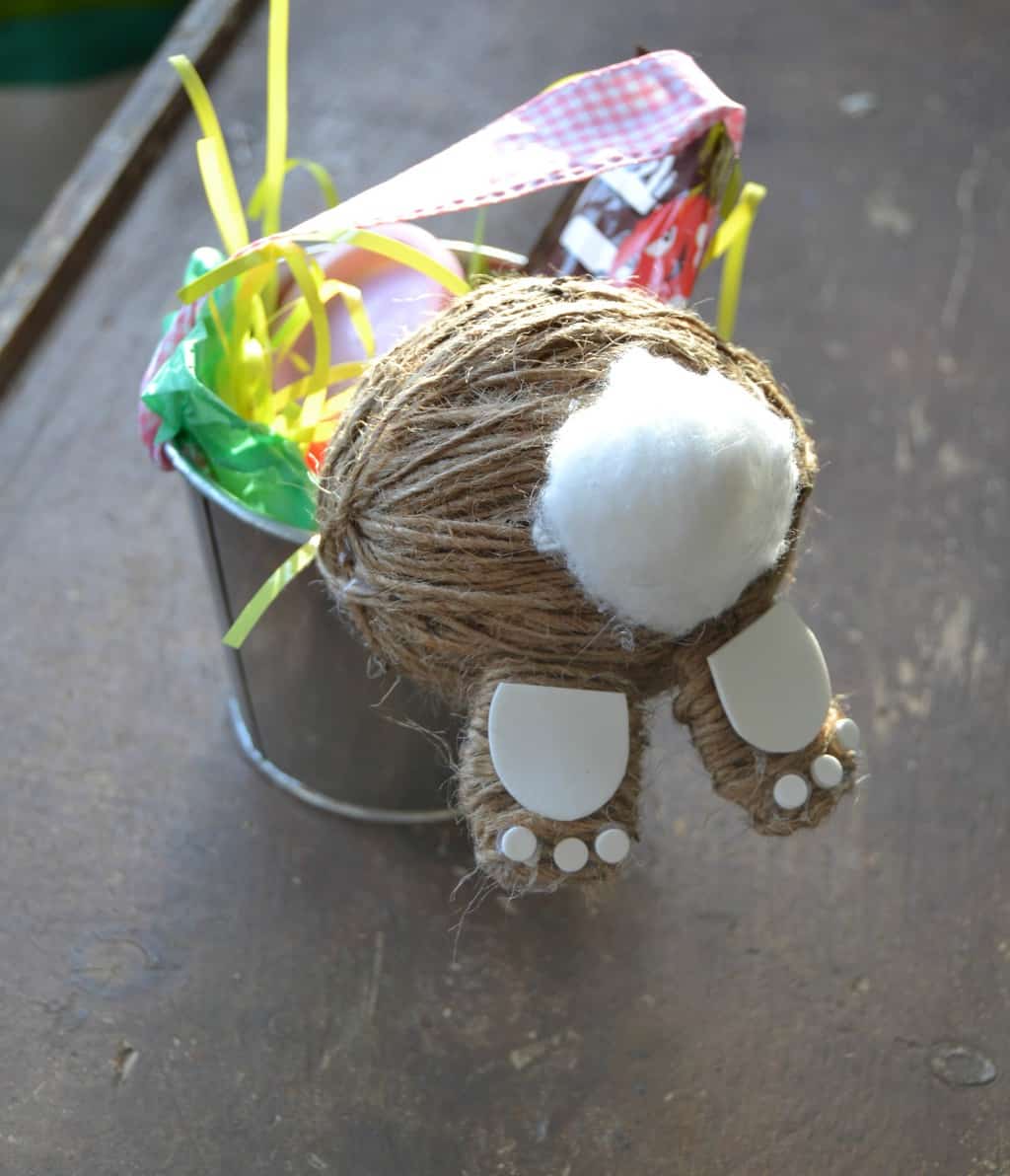 I don't know about you, but when I find a great deal on craft supplies, I pick them up. I always feel great that I am saving money, but then I get to a point when I am overwhelmed with the amount of supplies I have accumulated. That is when we hold "crafting marathons" at our house. The kiddos and I grab a bunch of supplies and spread out on the table and create until our creative juices run dry. 😉
That is exactly what I did for this project.
I needed to come up with something for handing out Easter goodies this year. I knew I had a lot of supplies, so I challenged myself to only use what I had on hand. After a little brainstorming and a lot of trial and error, I think these bunny buckets are just what the Easter goodies need.
To make one of these bunny buckets, I used:
small galvanized bucket (I got them on clearance last year at Target)
Styrofoam ball
brown, jute twine from The Dollar Tree (I love brown and gray bunnies)
cotton ball
adhesive scrapbook paper
white foam
toilet paper roll
hole punch
hot glue gun
steak knife
green Easter grass
green tissue paper
scissors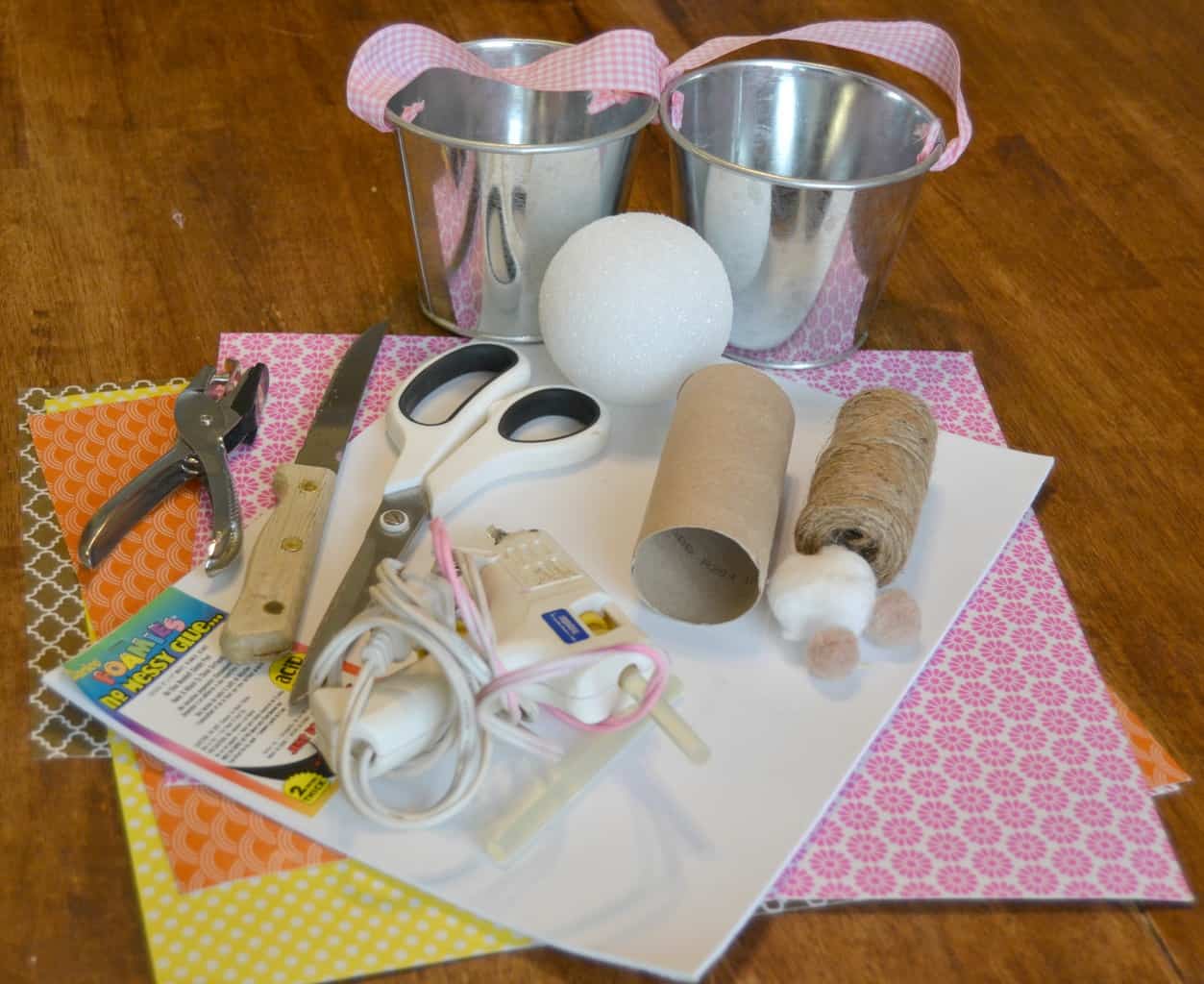 The first thing I did was cut a slit in the Styrofoam ball with a steak knife so I could push it on the "lip" of the galvanized bucket. Then, I wrapped the entire Styrofoam ball (minus where the slit was) with brown, jute twine. I used hot glue a couple of times to help keep the twine on the ball. Then, I put some hot glue on the lip of the bucket (to help it stay there) and pushed the twine covered Styrofoam ball on the bucket. To finish this part (the bum) of the bunny, I added a cotton ball with hot glue.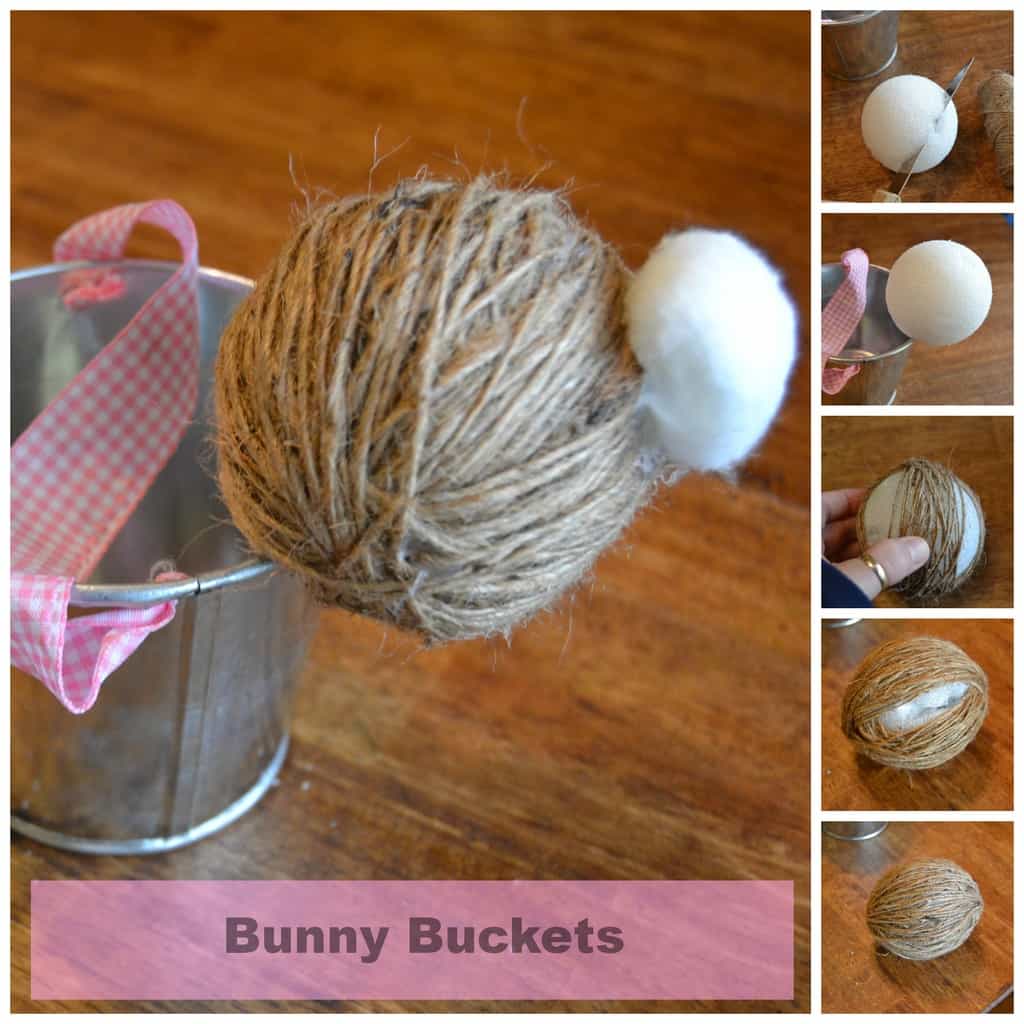 To make the feet of the bunny, I cut two "feet shapes" from a toilet paper roll (see pictures below). I wanted something stronger than paper and I knew the cardboard toilet paper roll would work (and I always have toilet paper rolls lying around). I wrapped the "feet" with the same brown, jute twine. Then, to make the "pads" of the bunny feet, I used a hole punch, scissors and white foam. I hole punched six circles and cut two half circles from the white foam. I used hot glue to add them to the feet.
I used hot glue to add the feet to the underside of the bunny.
To spruce up the other side of the bucket, I cut a bunny shape from adhesive scrapbook paper to stick on the bucket. Then, I hot glued a pom-pom tail on it. Easy peasy.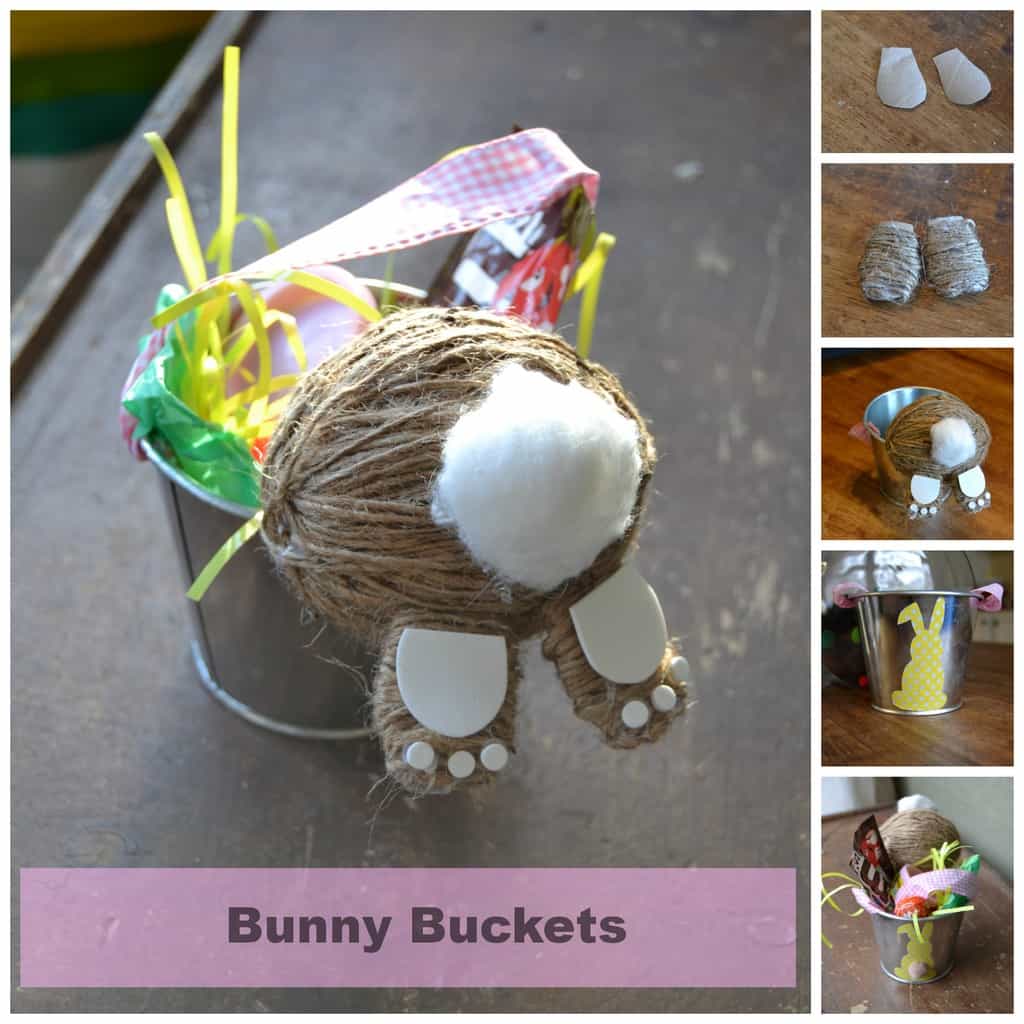 Inside the buckets, I used green tissue paper, Easter grass and of course, Easter goodies!
These bunny buckets are so much fun! Who wouldn't love finding a bunny, head-first in a bucket of goodies on Easter? 😉
The following two tabs change content below.
Lindsay is mom to Landen and Gabrielle, wife to Matt and blogger at My Creative Ways. She loves to be creative in her day, her home and with her kids. She is obsessed with old wood, rusty treasures and everything in between. Finding frugal and creative ways to decorate her home, create a fabulous craft or activity with her kids is a passion of hers. She is new to the blogging world and is having a lot of fun sharing her projects and ideas. She loves to read comments from readers who have found inspiration from visiting her site. Come by and check out what she is creating today!
Latest posts by Lindsay Eidahl (see all)