Have you received any holiday cards yet? Believe they are coming! The question is, how to you showcase them? Do they go in a pile, in a basket, displayed on a mantle, pinned to a board?
It's Pauline from ClubChicaCircle and I'm excited to show you a super easy craft idea, with a touch of upcycling and twinkle, to host your holiday cards this year.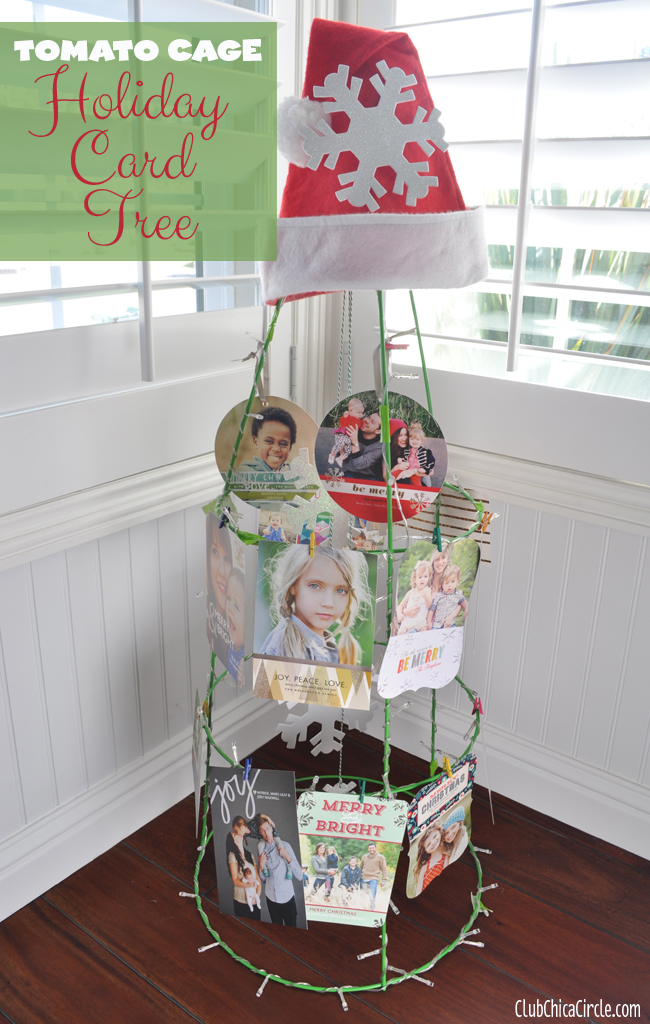 It's a green tomato cage turned upside-down and into a holiday card tree!
Besides the green tomato cage, which I found at my local Home Depot, I used green and white striped baker's twine, green decorative Scotch packaging tapes, mini-clothespins, and foam snowflake decorations. I found the clothespins and snowflakes at my local Michaels, and the baker's twine I bought from Pick your Plum.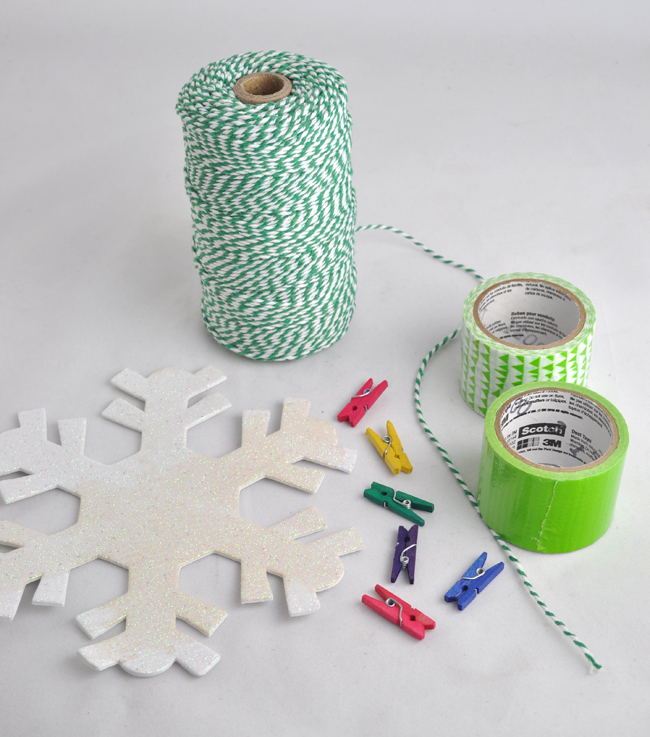 And for the "sparkle" I used two strands of battery-operated lights.
After using tape the cinch the bottom prongs of my tomato cage together, I attached the battery boxes from the lights at the top as well.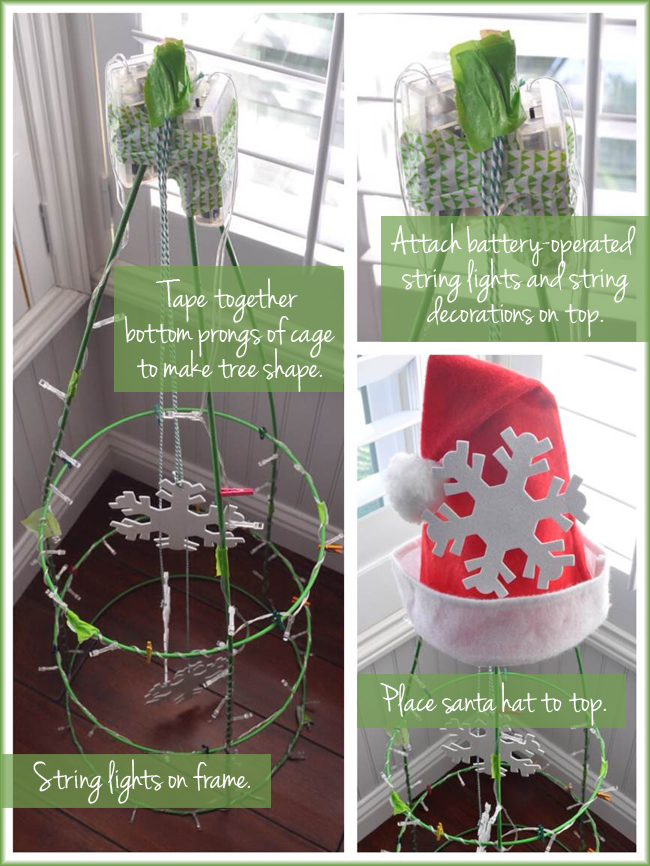 Then I strung the lights along the wire frame, twisting and securing with more tape when necessary.
I hung three large foam snowflake ornaments in the middle of my "tree" using the baker's twine tied to the top of each snowflake through a hole that I punched out with a hole punch. I secured them at the top with more tape.
To finish it off, and cover up the battery boxes at the top, I placed a cute Santa hat decorated with one more snowflake. The hat makes the perfect holiday card tree topper, and it's easy to lift off and on when you want to light up your "tree".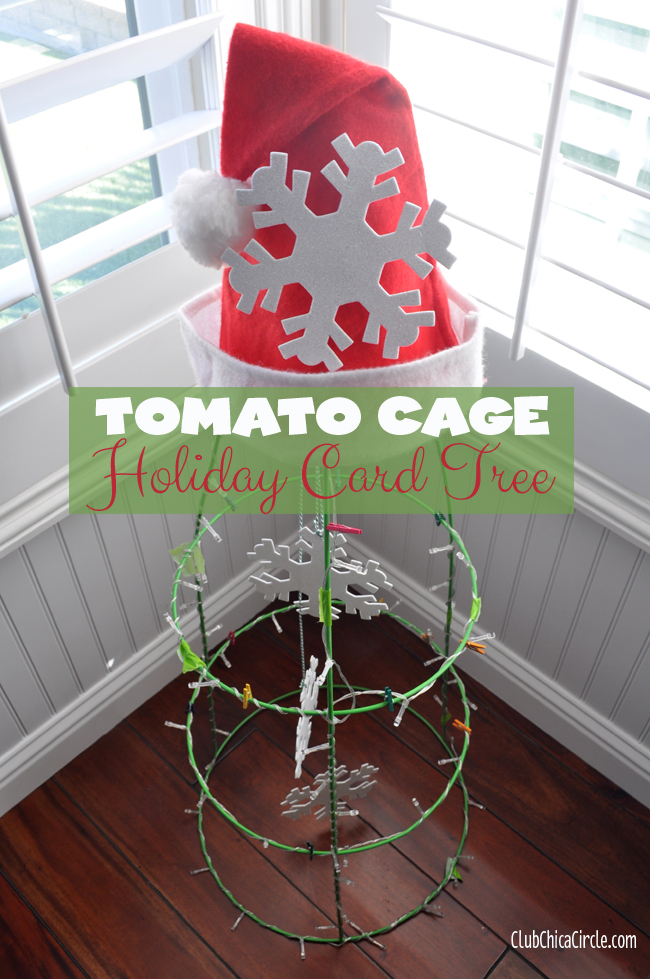 Now, just use mini clothespins to attach cards onto the wire frame as they arrive in the mail.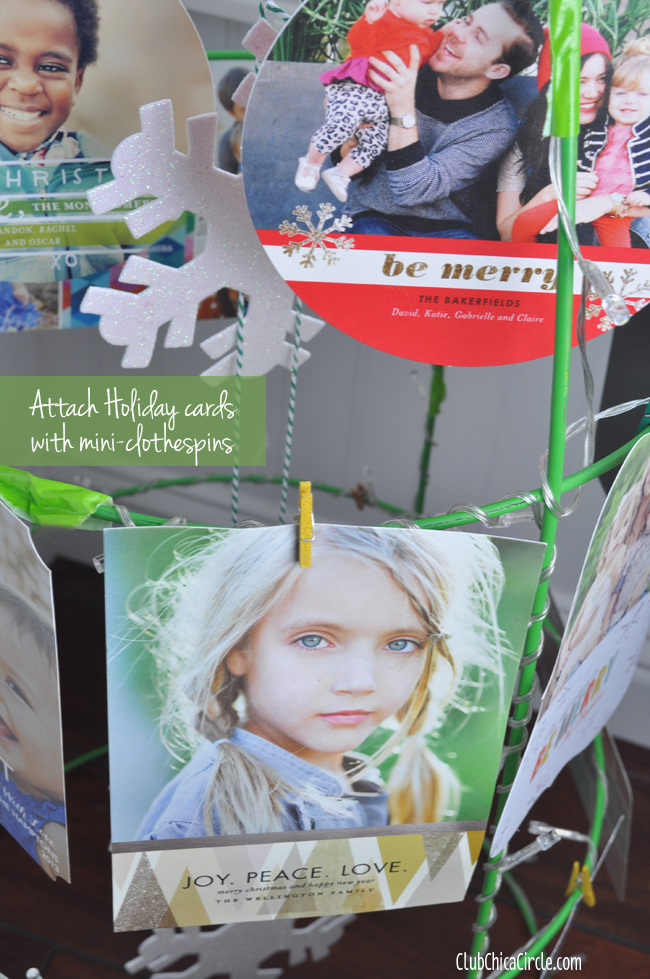 I recently hosted a Tiny Prints live holiday party event, so I had some fabulous card samples from the Tiny Prints 2013 Holiday Collection to demonstrate.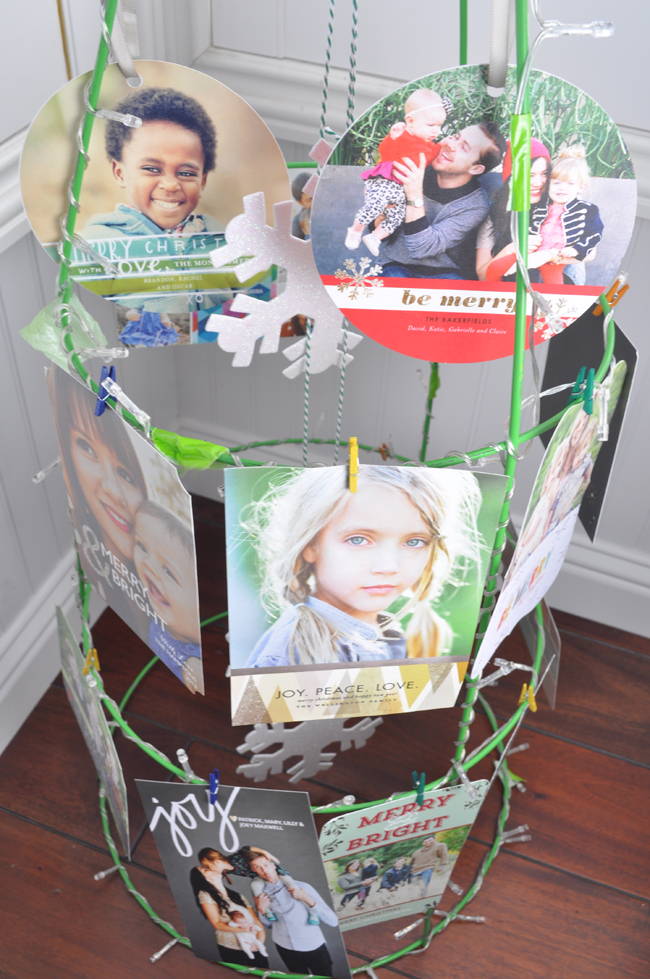 I love how the cards fill up the "tree" and create a beautiful holiday card display.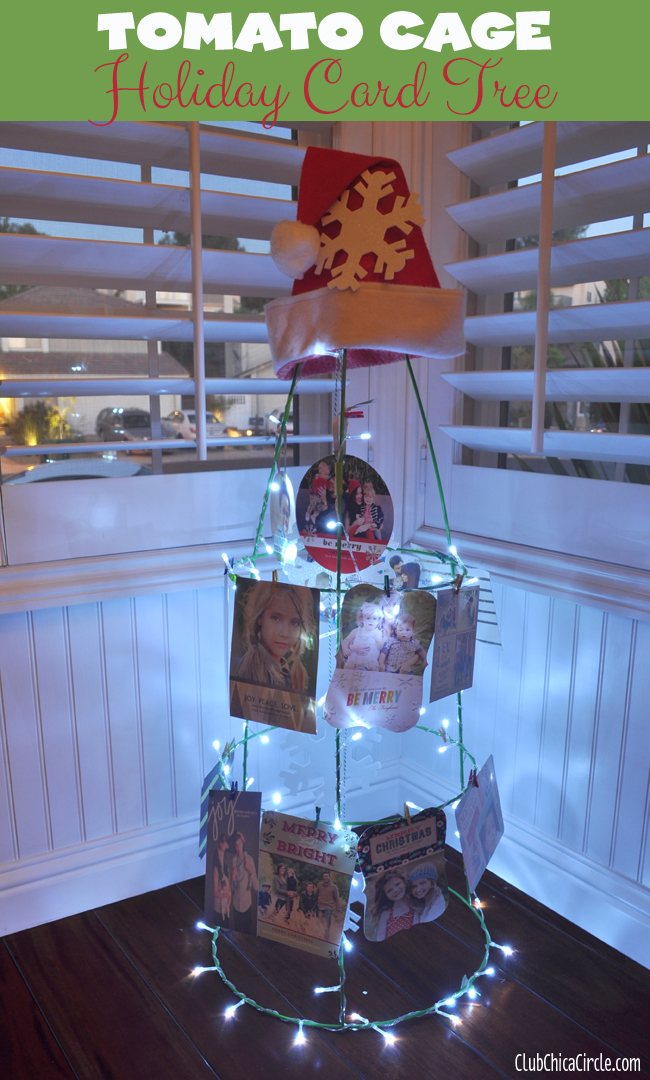 A crafty display and solution to holding all of your holiday cards that lights up! So festive!
The best part, is that you can easily remove the tape and lights, and use your tomato cage again in the garden after the holidays have long gone!
Enjoy and Happy Holidays!
Pauline Molinari is a crafty mompreneur who loves to craft with her tween daughter. She can turn ordinary things into fabulous crafty creations. Their craft journey is what she loves to blog about. She has a background in art and graphic design as well as many years in children's publishing, but has found a new passion in crafty DIY blogging. She co-blogs with her sister, who also has a tween daughter. Together they share their crazy crafty insight in raising daughters in the hopes of that they will become inspired and empowered young ladies. Their goal is to connect mom and daughters through craftiness.
Pauline lives with her husband and daughter in sunny Southern California, but is a Midwest girl at heart.
Blog: www.ClubChicaCircle.com
Twitter: @chicacircle
Facebook
YouTube
Pinterest
Google+
Instagram
The following two tabs change content below.
Erin Kennedy is the owner and editor of My Crafty Spot and loves to find the latest crafting creations to create and share.
Latest posts by Erin Kennedy (see all)