I'm so excited to be a part of the launch of My Crafty Spot. It is a privilege to contribute my craftiness here. Just as this is a new gig for me, my sister recently started a new job that she is really excited about. You can call me the queen of homemade gift-giving, and this occasion called for something special. I needed to make the perfect gift to wish her well in her new position.
I spend a lot of time crafting with my tween daughter, and one of our go-to boredom busting activities is making colored sand and pouring them into pretty clear glass bottles. We have both made our own "Desk Zen" sandboxes for ourselves, and I knew this would be a fun and interactive gift idea to send to my sister. The trouble is—colored sand in an open clear box will NOT travel. She lives about 400 miles away from us, and I needed to figure out a way that this gift could travel.
Introducing… the Desk Zen Kit DIY!
Starting with the basic supplies of a 5″ x 7″ shadowbox frame, small empty containers, bamboo fork, and small polished rocks, you can create your ZEN and gift it to a friend.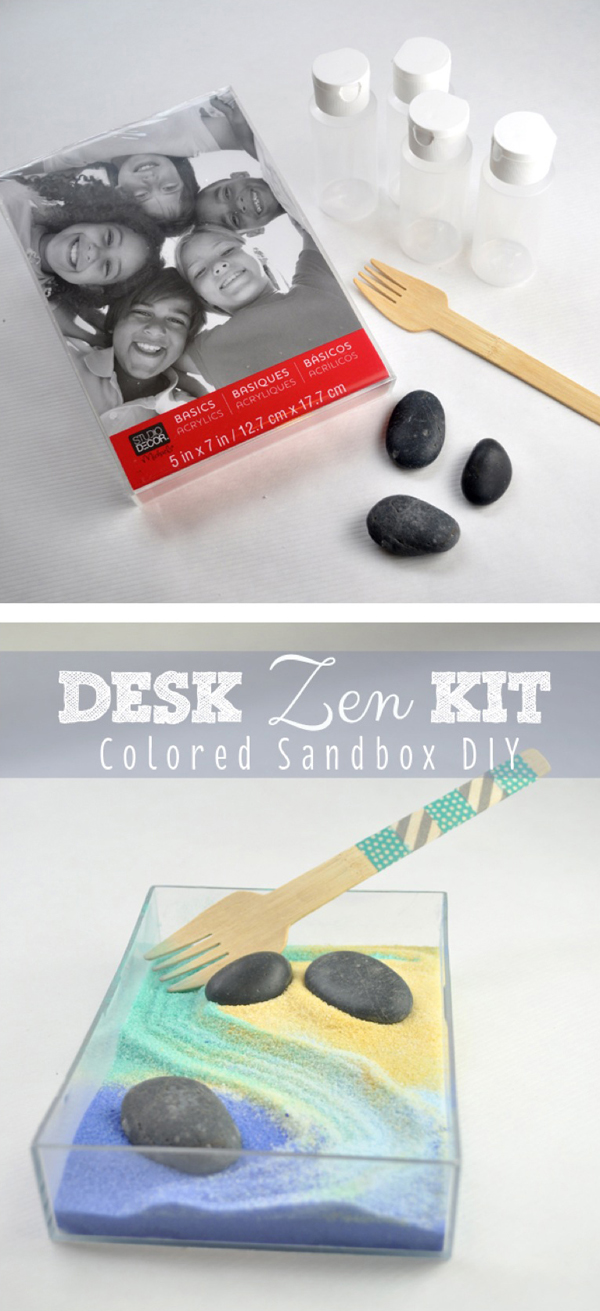 The first thing you need to do is create the colored sand. I know you can buy colored sand at your local craft store, but this way is actually more fun, and actually quite relaxing.Also, with this technique you can customize the colors you want.
You will artists chalk pastels (not oil pastels) and table salt. I also used plain white copy paper, and empty plastic containers to put the sand in.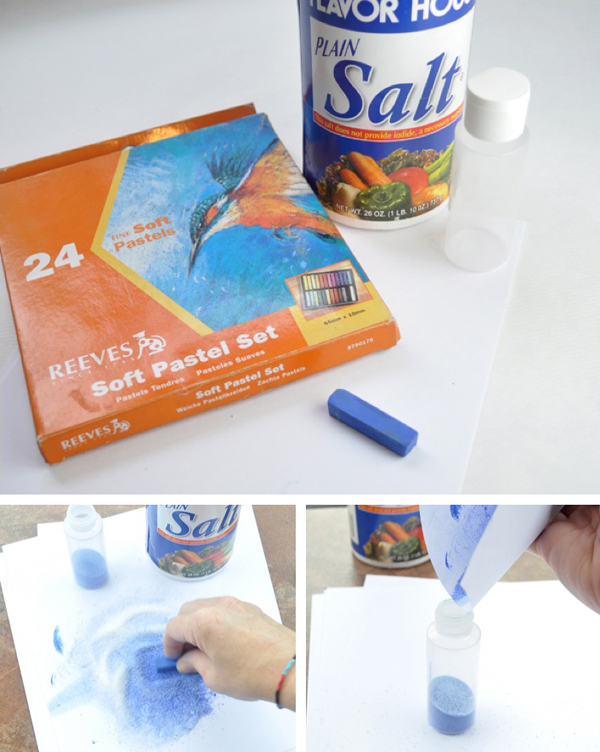 This is a great craft to do with kids for sure. So easy, my daughter can even teach you how to do it.
Simply pour some white table salt onto a piece of paper. Then, with your color of choice, run the side of the chalk pastel over the chalk back and forth. Move it around until all of the sand is colored. Finally, use your paper as a funnel and pour into your container.
I wanted to go with a soothing, cool, beach-inspired color palette, so I picked 3 colors in the blue/green family and a nice sand colored chalk.
After I colored 4 vials of chalk, all that was left to do was wrap my desk zen kit gift.

I placed the four colored sand vials into the bottom of the clear acrylic shadowbox frame. I added some natural colored gift wrap filler and placed the small rocks on the side and the bamboo fork on the top.
You can use a regular plastic fork too, but I love the natural look and feel of the bamboo fork. I also couldn't resist decorating the handle with some washi tape stripes.
Then, to keep everything intact, I used a common kitchen tool in my house – Press'n Seal wrap. I wrapped it nice and tight over the front of the bottles and supplies and secured it around the back.
I cut a piece of decorative scrapbook paper the same size as the frame and placed it over the back to cover up the Press'n Seal gathers and secured it with more washi tape.
Then, I added some baker's twine and a pretty gift card on the front explaining what the gift is.
If you would like to make your own Desk Zen Gift, you can get the free printable gift tag here:
Wrap it up and send it someone special. Give them some zen to have at work. When they open it, they can create their own colorful sandbox.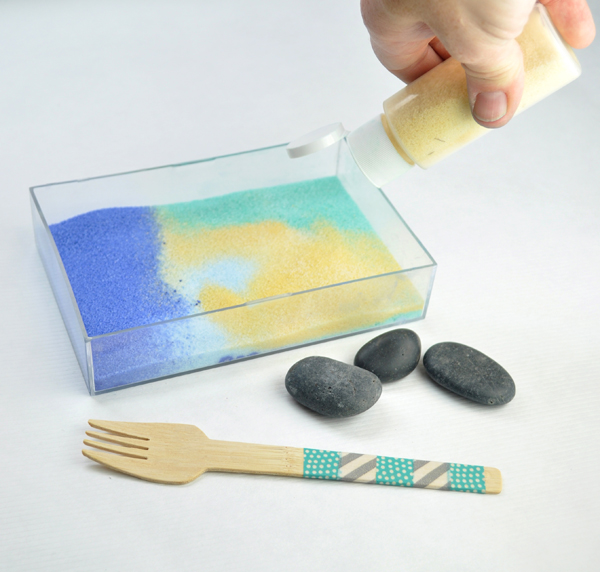 Then they can draw designs in the pretty colored sand for a little creative peace and zen at their desk.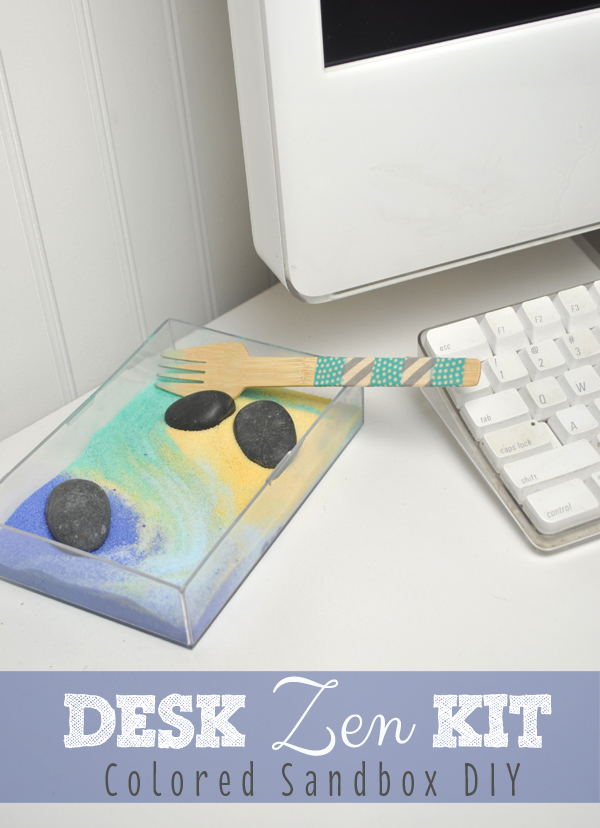 Enjoy!
Pauline Molinari – Crafty maven of ClubChicaCircle.com – Professional blogger and crafter – Southern California girl with a Midwest heart.
Blog: www.ClubChicaCircle..com
Twitter: @chicacircle
Facebook
YouTube
Pinterest
Google+
Instagram
The following two tabs change content below.
Erin Kennedy is the owner and editor of My Crafty Spot and loves to find the latest crafting creations to create and share.
Latest posts by Erin Kennedy (see all)