There are so many sayings and words out there that really string a cord with me. I love simple words that come together to make a HUGE statement. One of the sayings that has caught my attention lately is: "All you need is love." I think there is so much truth to this. So many times you find yourself focusing on what you don't have or what you think you want more of, but if you have love, everything else is just icing on the cake.
So, I decided to make this saying prominent in our home with a sign.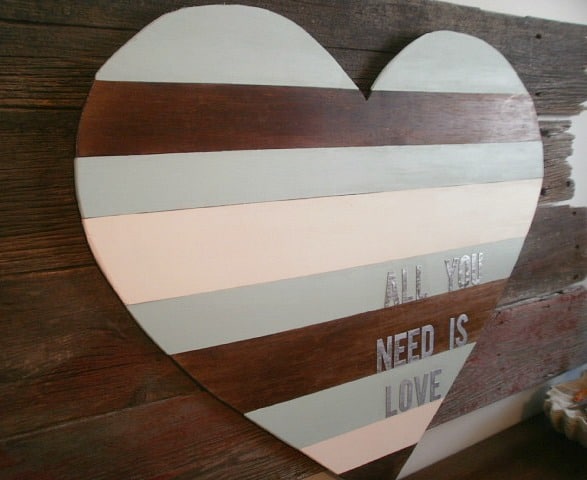 When I thought about the words, a big heart made from horizontal pieces of wood came to mind.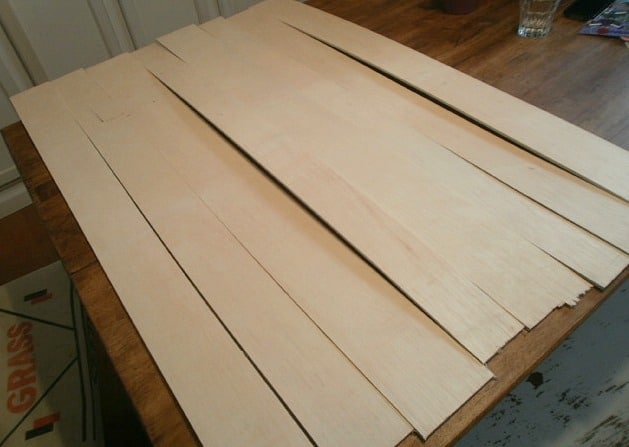 We had a thin piece of wood left over from another project that worked perfect.
I didn't want the horizontal pieces to match in size. I thought a more "organic" look (something not so universal) would look better. So, Hubby cut the wood at different widths – ranging from 2″ to 4.5″.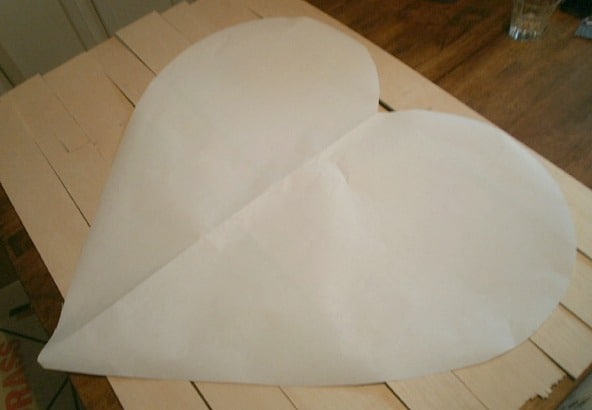 To make the heart shape, I cut a heart out of butcher paper and traced in on the cut wood pieces.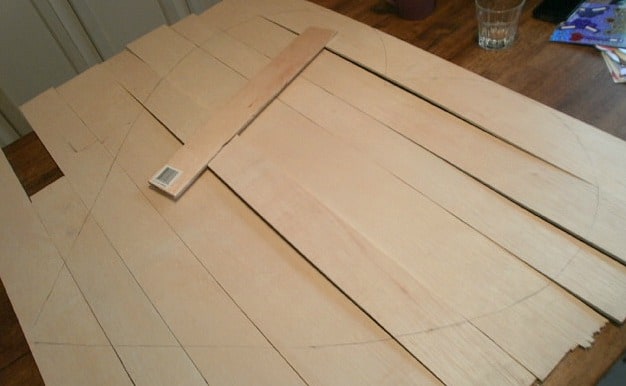 Then, Hubby cut all the pieces using a jigsaw.
I put all the pieces together by stapling scraps of the same wood on the back of the heart. The stapler worked perfect because the wood was so thin.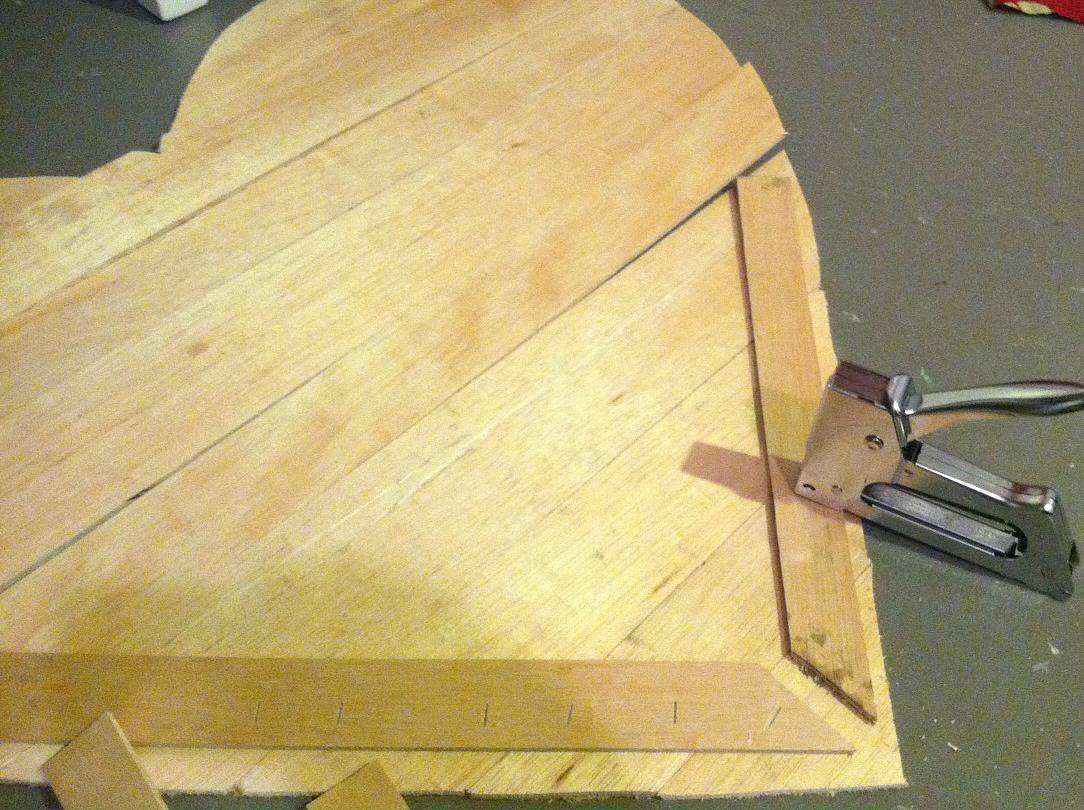 After seeing the piece together and looking through the paints we had, I decided on a color scheme. Spring colors are screaming my name right now because we have had such a brutal winter here in Iowa. 

I stained some of the strips with Minwax "Mission Oak" stain. Then, I painted some strips with Valspar "Churchill Hotel Vanilla" paint. I painted the rest of the strips a color I had mixed for a previous project. It is similar to a robin's egg blue.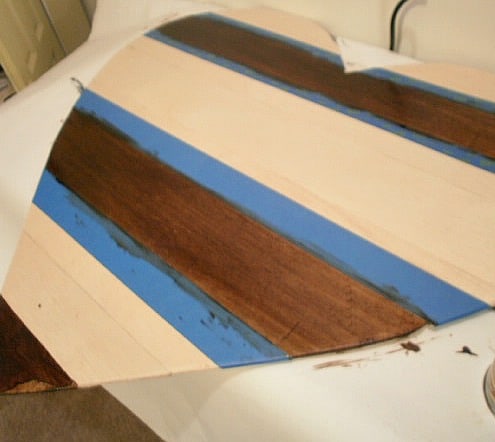 I love the soft colors next to the dark stain.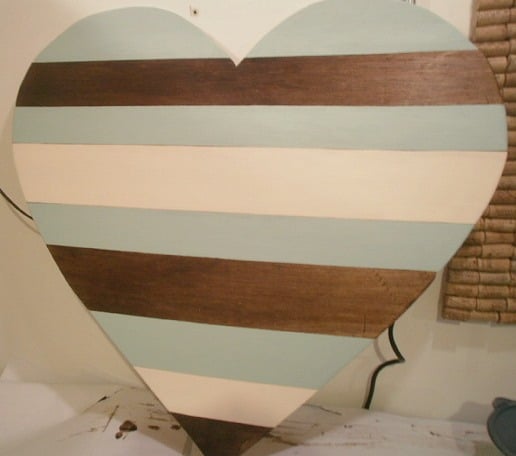 After the paint and stain dried, I used silver cardboard letters that I picked up in the $1 bin at Target. I thought these shiny letters would make my words "POP" on the sign.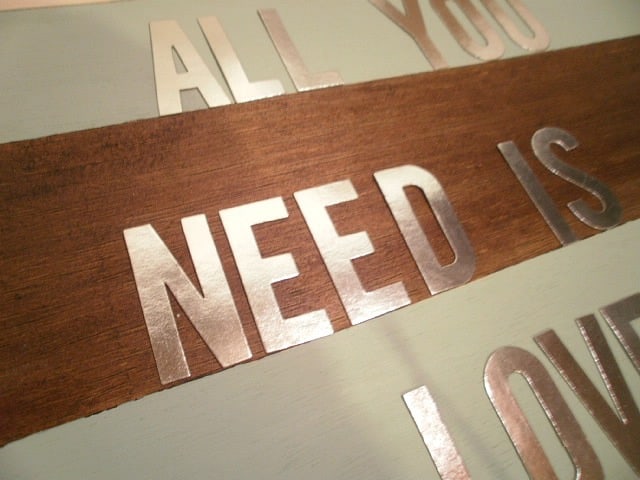 To put the letters on the wood, I mixed some white glue with a little bit of water. I put the glue mixture on the back of the letters and placed them on the board. Once they had a chance to set, I painted over them with the same glue mixture. This is the technique I always use when I want to "Modge Podge" something.
After I applied a few coats of the glue mixture, I let it dry over night.
The next day, I knew where the sign needed to be. I hung it on the front of some old barn wood we have in our bedroom.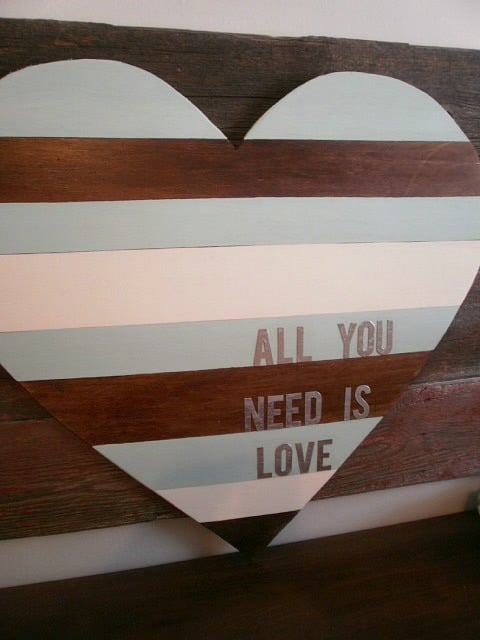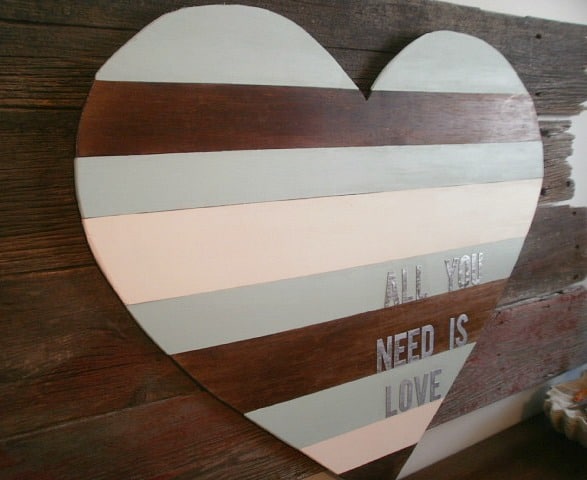 Now, every day, we are be reminded of what really matters. Since I have hung this sign, we have had some great conversations with the kids about what we are thankful for. Number one is love!
The following two tabs change content below.
Lindsay is mom to Landen and Gabrielle, wife to Matt and blogger at My Creative Ways. She loves to be creative in her day, her home and with her kids. She is obsessed with old wood, rusty treasures and everything in between. Finding frugal and creative ways to decorate her home, create a fabulous craft or activity with her kids is a passion of hers. She is new to the blogging world and is having a lot of fun sharing her projects and ideas. She loves to read comments from readers who have found inspiration from visiting her site. Come by and check out what she is creating today!
Latest posts by Lindsay Eidahl (see all)